As we begin this year, we want to continue reading God's Word and memorizing scripture together.
Bible Reading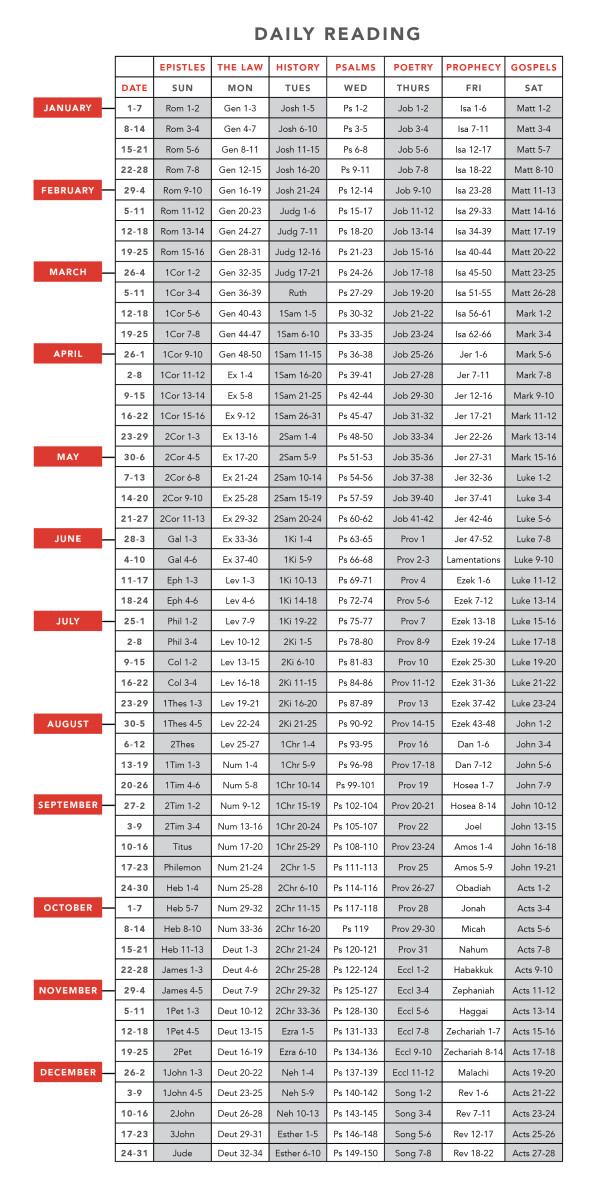 Scripture Memory
Month
Memory Verse
January

Hebrews 12:15 (NASB95)

15 See to it that no one comes short of the grace of God; that no root of bitterness springing up causes trouble, and by it many be defiled;


February

2 Corinthians 9:8 (NASB95)

8 And God is able to make all grace abound to you, so that always having all sufficiency in everything, you may have an abundance for every good deed;

March

Isaiah 58:11 (NASB95)

11

"And the

Lord

will continually guide you,

And satisfy your desire in scorched places,

And give strength to your bones;

And you will be like a watered garden,

And like a spring of water whose waters do not fail.

April

Lamentations 3:24-26 (NASB95)

24

"The

Lord

is my portion," says my soul,

"Therefore I have hope in Him."

25

The

Lord

is good to those who wait for Him,

To the person who seeks Him.

26

It is good that he waits silently For the salvation of the

Lord

.
May

Galatians 5:25-26 (NASB95)

25

If we live by the Spirit, let us also walk by the Spirit.

26

Let us not become boastful, challenging one another, envying one another.
June

Psalm 125:1-2 (NASB95)

Those who trust in the Lord Are as Mount Zion, which cannot be moved but abides forever. 2 As the mountains surround Jerusalem, So the Lord surrounds His people From this time forth and forever.

July

Philippians 3:9 (NASB95)

9 and may be found in Him, not having a righteousness of my own derived from the Law, but that which is through faith in Christ, the righteousness which comes from God on the basis of faith,

August

Jeremiah 32:40 (NASB95)

40 I will make an everlasting covenant with them that I will not turn away from them, to do them good; and I will put the fear of Me in their hearts so that they will not turn away from Me.

September

Colossians 3:1-3 (NASB95)

3 Therefore if you have been raised up with Christ, keep seeking the things above, where Christ is, seated at the right hand of God. 2 Set your mind on the things above, not on the things that are on earth. 3 For you have died and your life is hidden with Christ in God.

October

Hebrews 10:24 (NASB95)

24 and let us consider how to stimulate one another to love and good deeds,

November

Proverbs 3:1-4 (NASB95)

3 My son, do not forget my teaching, But let your heart keep my commandments; 2 For length of days and years of life And peace they will add to you. 3 Do not let kindness and truth leave you; Bind them around your neck, Write them on the tablet of your heart. 4 So you will find favor and good repute In the sight of God and man.

December

Ephesians 4:29 (NASB95)

29 Let no unwholesome word proceed from your mouth, but only such a word as is good for edification according to the need of the moment, so that it will give grace to those who hear.