Women's Ministry Event: Bethany Barr Phillips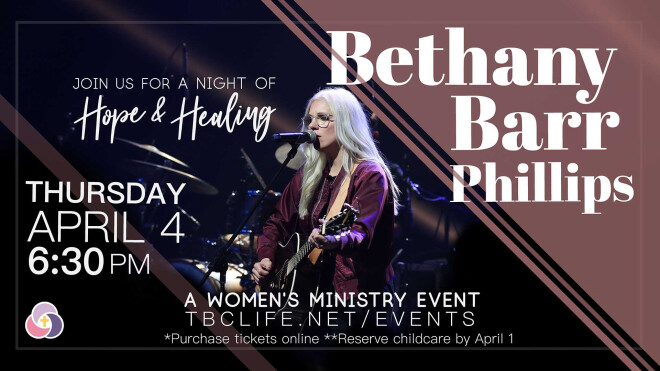 Thursday, April 04, 2019, 6:30 PM - 8:00 PM
A night of healing, hope, and encouragement
You are invited to a night of healing, hope, and encouragement. Special guest musician Bethany Barr Phillips will lead a night of worship, testimony and scripture reading.
Meet Bethany:
Leading musical worship, speaking, and sharing her story of healing and hope, Bethany Barr Phillips uses life experience to connect with others while remaining honest and encouraging. With a clear vision to advance the Gospel, this Mississippi native & her team strive to be intentional in every opportunity to serve the local church through leading and speaking at events, conferences, and local churches.
Bethany shares: "As the team and I have traveled over the last several years, we have come across so many that keep us in tune with the fact that everyone has struggles - no matter their age, place, or position in life. Our heart is to address, through Scripture and encouragement, many of the things we all come against in this world. Fear, insignificance, hopelessness, whatever yours may be, know that the Holy Spirit is the gift from God to walk with us through these valleys. At the end of the day, telling people Jesus is Who He says He is and, through trusting in Him by Holy Spirit, is the main goal. This and only this will bring a person's heart to life." Bethany travels full-time as an itinerant worship leader & speaker, as well as serving in a worship leader role in her local church. She resides in Tuscaloosa, AL, with her husband of 14 years, Andy, and her daughter, Isaiah Jewel.
See more at https://bethanybarrphillips.com/