Sacred Holidays: Less Chaos, More Jesus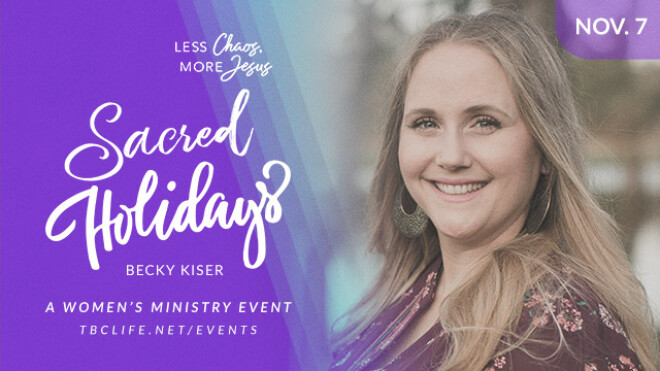 Thursday, November 07, 2019, 6:30 PM - 8:00 PM
In the midst of the holiday season, it becomes much too easy for us to loose sight of what truly matters most. Celebrating Jesus as the central point of each holiday seems to get lost within the craziness of life. While we might know that Jesus really is the reason for the season, we typically allow for all of the details and planning to fog the meaning of this treasured time of the year.
"Sacred Holidays: Less Chaos, More Jesus" is a Women's Ministry event where author and speaker, Becky Kiser, will help us refocus our attention back on Jesus as we enter into the holiday season once again. This will be a memorable night to gather and be encouraged by sisters in Christ from all walks of life. Regardless of your age or season of life, we would love for you join us for this time of growing in community with one another!
Ticket Price: $5.00
Childcare Available for 8-weeks - Kindergarten: Must be reserved by Monday, November 4th.
The book "Sacred Holidays: Less Chaos, More Jesus" will be available for purchase at the event.