Wednesday Night Start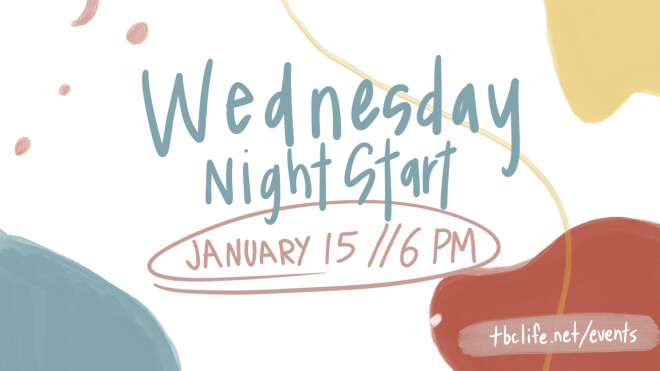 Wednesday, January 15, 2020, 6:00 PM - 7:30 PM
Adult Equipping Classes
On Wednesday, January 15th all regularly scheduled Wednesday night activities will start, but Adult Equipping Classes will not meet. Instead, we will have an open house so that you can come to the gym and see what classes are available, meet the class teacher, and ask any questions you may have about the class.
Adult equipping classes begin Wednesday, January 22nd.
A list of classes and class descriptions can be found in the Equipping Book and on the Group Finder.
**Books for classes can be purchased online through the Group Finder and picked up in Class
Dinner
Dinner:

Spaghetti, Mixed Veggies, Garlic Sticks, and Lemon Bars
Pizza & a Cookie

$5 Adults: $2.50 Kids: $20 max per family
Menu: Spaghetti
Childcare
8 weeks through 1 year old: Preschool Building 6:00p.m.
Preschool and Children
AWANA: 2 years old through 3rd grade: Preschool and Children Buildings 6:00p.m.
Quest: 4th grade through 6th grade: Children's Theater 6:00p.m.
Students
Vertical: Upstairs Refuge. Junior High and Senior High 6:00p.m.
---
Worship Ministry Activities
5:15-6:00p.m.


Joyful Praise: Grades 4th-6th: WC220 (meets designated Wednesdays, not every week)

6:00-7:30p.m. (Awana)

Creation Station Praise: 4-5 year olds
Praise Kids: 1st through 3rd grade

6:00-7:00p.m.

Celebration Orchestra: WC122

7:00-8:10p.m.

Celebration Choir: WC220 Choir Suite. (child care for 8 weeks -6th grade)
**Adult Groups (Auditioned): Praise Team 6:00p.m., Worship Team 8:30p.m.