Wednesday Night Activities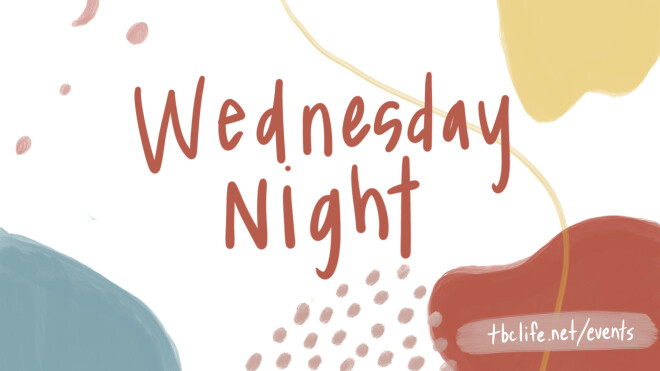 Every Wednesday, from 01/22/2020 to 05/13/2020, 4:45 PM - 7:30 PM
Dinner
4:45 - 6:00pm
$5 Adults, $2.50 Kids, $20 max per family
Menu


TBD
Salad:
Pizza and a Cookie
Adult Equipping Classes
Choose from over 40 equipping classes focused on particular stages of life, crisis, or biblical training. You can pre-register for classes by visiting the Group Finder and clicking "register" under the class you would like to attend.
Adult equipping classes begin Wednesday, January 22nd.
A list of classes and class descriptions can be found in the Equipping Book and on the Group Finder.
**Books for classes can be purchased online through the Group Finder and picked up in Class
Childcare
8 weeks through 1 year old: Preschool Building 6:00p.m.
Preschool and Children
AWANA: 2 years old through 3rd grade: Preschool and Children Buildings 6:00p.m.
Quest: 4th grade through 6th grade: Children's Theater 6:00p.m.
Students
Vertical: Upstairs Refuge. Junior High and Senior High 6:00p.m.
---
Worship Ministry Activities
5:15-6:00p.m.


Joyful Praise: Grades 4th-6th: WC220 (meets designated Wednesdays, not every week)

6:00-7:30p.m. (Awana)

Creation Station Praise: 4-5 year olds
Praise Kids: 1st through 3rd grade

6:00-7:00p.m.

Celebration Orchestra: WC122

7:00-8:10p.m.

Celebration Choir: WC220 Choir Suite. (child care for 8 weeks -6th grade)
**Adult Groups (Auditioned): Praise Team 6:00p.m., Worship Team 8:30p.m.