Women's Ministry Event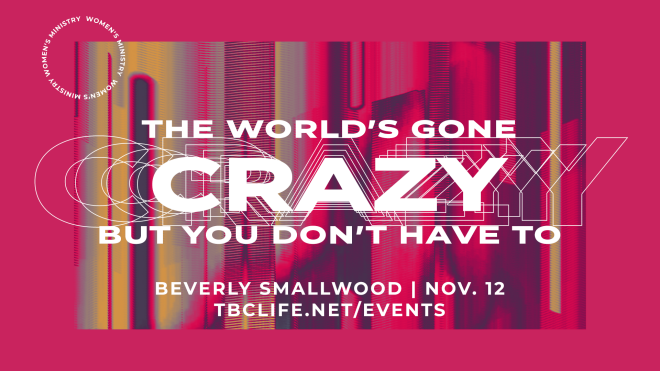 Thursday, November 12, 2020, 6:30 PM - 8:00 PM
"The World's Gone Crazy but You Don't Have To"
Guest Speaker: Beverly Smallwood
Hey ladies, how has your year been going?! ;) Now is a great time to attend the Women's Ministry event on November 12 entitled "The World's Gone Crazy but You Don't Have to!" Guest Speaker Beverly Smallwood is going to talk about fear, anxiety, stress, finances, and the weight of many things you may be feeling right now. Go ahead and register today at tbclife.net/events or at the church office.
Registration: $5/person includes box dinner
No childcare
Online Registration
Location: Gym
*The deadline for registering online is midnight on Monday, November 9. Tickets can be purchased at the front desk until Wednesday at 5:00. Only those who register/purchase tickets by midnight on Monday are guaranteed a meal.